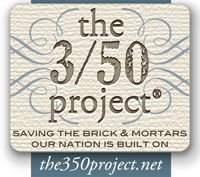 A special thanks to my friend Bill

Dawers

for writing about this great project in today's newspaper. You can pick up a copy or read the excerpt below.

Initiatives to support local businesses gathering steam


If you're a retailer and your numbers are up over last year, congratulations. Keep doing whatever you're doing, but don't get complacent.
Anecdotally, most downtown retailers with whom I'm in regular contact have seen their sales numbers are down from last year, in some cases 30 percent or more.
That seems like a huge number, but it's consistent with the statewide retail environment as revealed by sales tax collections, which declined 24.5 percent in April compared with last year.
I've been pleasantly surprised by the resilience of some businesses that have hunkered down and seem poised to survive the recession and a potentially slow recovery.
But we're likely to be in a difficult environment for retailers for many months. (Six? 12? 20?)
So it's good to see that the Savannah Development and Renewal Authority is going to launch a local ad campaign to promote downtown business. More on that soon. And it's good to see that there are other initiatives across the country to encourage consumers to support small and locally owned businesses.
On her blog (www.vintage general.blogspot.com), Liz Demos - owner of @home at 320 W. Broughton St. - recently wrote about the 3/50 Project (www.the350 project.net), a grassroots movement to encourage consumers to spend more thoughtfully.
It's a simple idea: Choose the three independently owned stores that you would miss most if they closed and spend $50 in each over a period of time.
I've also noticed an uptick in the number of downtown residents who have been encouraging me to write about specific stores. (Three people have approached me independently in the past week or so to write again about Papillote, the French to-go bistro that opened earlier this year at 218 W. Broughton St.)
These trends obviously mirror the growing interest in locally harvested food that led to the creation this year of the Forsyth Farmers Market (www.forsythfarmersmarket.org) and the expanded hours at the Market at Trustees' Garden (www.trusteesmarket.com).
Perhaps this renewed interest in intentional spending and fostering locally owned businesses will prove to be the recession's silver lining.
City Talk appears every Tuesday and Sunday. Bill

Dawers

can be reached at billdawers@comcast.net. Send mail to 10 E. 32

nd

St., Savannah, GA 31401.